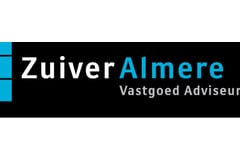 Zuiver Almere Vastgoed Adviseurs B.V.
Zuiver staat voor gedegen en correct dat is de manier waarop Zuiver Almere werkt
About us
Zuiver staat voor gedegen en correct. Dat is de manier waarop Zuiver Almere werkt. Gedegen qua onafhankelijkheid en vakkundig advies, correct in de manier waarop wij al jarenlang zaken doen.
Zuiver Almere Vastgoed Adviseurs richt zich met haar verhuur- en verkoopactiviteiten specifiek op de commerciële onroerend goed markt van Almere. Ruim 25 jaar ervaring in deze regio zorgt ervoor dat wij bekend staan als de Almere specialist. Deze diepgaande kennis en ervaring en vooral ons enthousiasme zetten wij dagelijks in voor onze opdrachtgevers. Wij behartigen dan ook de belangen van verschillende soorten opdrachtgevers zoals eigenaren, gebruikers en overheid. Het commercieel onroerend goed bestaat uit kantoren, bedrijfshallen, winkels en logistieke ruimte.
Naast de verhuur- en verkoopactiviteiten in Almere begeleidt Zuiver diverse organisaties bij de verwerving van nieuwe locaties door geheel Nederland.
Zuiver Almere is gevestigd aan de Transistorstraat 7 te Almere.
What we do
Bemiddeling aankoop en verkoop

Alleen BOG
Transistorstraat 7,
1322 CJ Almere
Today opened until 17:00, available by phone until 17:00
All contact details
Transactions (past 12 months)
6
commercial properties sold or rented out
0
commercial properties purchased or rented
Sold and rented out
Contact
Visiting and mailing address
Transistorstraat 7
1322 CJ Almere
Opening hours
Monday

Mon

9:00 - 17:00

Tuesday

Tue

9:00 - 17:00

Wednesday

Wed

9:00 - 17:00

Thursday

Thu

9:00 - 17:00

Friday

Fri

9:00 - 17:00

Saturday

Sat

Closed

Sunday

Sun

Closed
At this office, you can also make appointments for viewings outside these opening hours.
Calling hours
Monday

Mon

9:00 - 17:00

Tuesday

Tue

9:00 - 17:00

Wednesday

Wed

9:00 - 17:00

Thursday

Thu

9:00 - 17:00

Friday

Fri

9:00 - 17:00

Saturday

Sat

Unavailable

Sunday

Sun

Unavailable